Strategic Plan
CMNRP STRATEGIC PLAN 2018-2021
CMNRP is a network whose mandate is to provide leadership, support and coordination for the planning and delivery of perinatal health services in the Champlain and South East Local Health Integration Networks (LHINs).
With families' voice at the center of what we do, CMNRP's goal is to ensure high quality integrated services and care at the right time, at the right place, by the right provider along the continuum from pregnancy through the postnatal period.
CMNRP is composed of a networkof perinatal health care providers from hospitals, public health units, community health centres, a birth centre and other community agencies - Working together on key initiatives to ensure standardized, data-driven, evidence-informed and family-centred care across the region.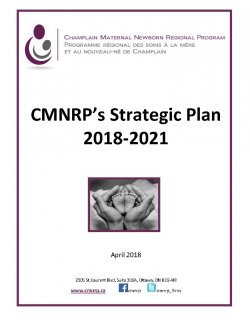 Download the full Strategic Plan