Family-Centred Care Toolkit
In November 2015, CMNRP launched the regional Family-Centred Care (FCC) toolkit. This comprehensive, evidence-based resource has been developed and compiled by CMNRP's Family Advisory Committee* to support regional partners in their efforts towards embracing this philosophy of care within their maternal newborn care services.
The toolkit provides the following valuable tools:
Framework – Outlines the guiding principles of family-centred care
PowerPoint presentation – An educational resource for healthcare organizations to assist with the implementation of family-centred care
Recommended Resources – To assist in the planning, implementation and evaluation of family-centred care initiatives
Promotional poster – To demonstrate your organizations commitment to this philosophy of care.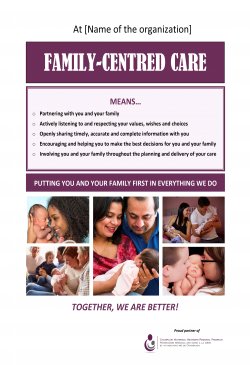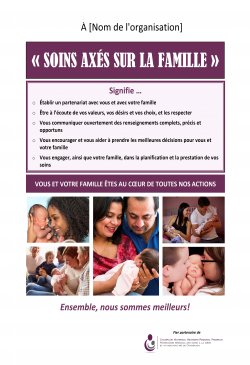 Instructions to add your organization's logo
Self-Assessment Tools – Available from the Institute of Patient- and Family-Centered Care to assist organizations in identifying strengths, opportunities for improvement, priorities for change and the development of an action plan
For comments or questions about this initiative and the content of the toolkit, please contact Darlene Rose, drose@cmnrp.ca, or 613-737-2660 x 2527.