Workshops
Join our mailing list to receive information about CMNRP's professional development opportunities, newsletters and webinars. Click here to sign up...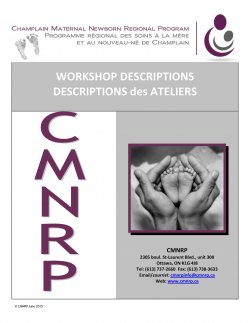 Download the CMNRP workshop descriptions.....
UPCOMING WORKSHOPS
CMNRP workshops are open to interprofessional perinatal care providers. All workshops run from 8:30 am - 4:30 pm.
FALL WORKSHOPS
Registration opens mid-July
Neonatal Resuscitation Program (NRP), Provider
NRP Instructor (2-day workshop)
NRP Instructor Update
FHSL Fundamental
FHSL Instructor (2-day workshop - fundamental & instructor)
Late Preterm Infant
Labour Support
Breastfeeding
Substance Use in the Perinatal Period
Perinatal Loss
Workshop content is based on current literature, research evidence and recommendations from various professional associations. While workshops describe current standards of care, they are not intended to dictate exclusive courses of practice: rather, they provide a foundation and direction for perinatal care. Variations and innovations that improve the quality of patient care are encouraged.
A written acknowledgement of attendance will be issued to participants. These certificates of attendance are not to be used as proof of "certification" as CMNRP is not an official certification body.
In most workshops, participants complete a knowledge test so that they can receive immediate feedback on their learning. For confidentiality purposes, the marks are given directly to participants. Therefore, if the marks are required for follow-up or performance appraisals, managers should consult the individual participants. CMNRP isnot responsible for the participants' performance either during or following the programs, or for implementing remedial work. However, we are willing to consult with institutions to assist in that process.
WORKSHOP FEES
CMNRP partner organizations benefit from special registration fees.
You qualify for a partner rate if you are an employee (e.g. RN, RPN, RT or SW) of one of the organizations below.
Founding Partners: You are an employee currently working in either the birth unit, the mother-baby unit or SCN/NICU of CHEO, The Ottawa Hospital or Kingston General Hospital. Fee included in founding partner contribution. You still qualify for a partner rate if you are an employee in another unit or department. Fee is $150.
Hospital Partners: You are an employee of Almonte General, Brockville General, Cornwall Community, Hawkesbury and District General, Montfort, Pembroke Regional, Perth & Smiths Falls District, Queensway Carleton, Quinte Health Care, Winchester District Memorial.
Partner fee - $150
For 2 day instructor workshops $300
Community Partners: You are an employee of Eastern Ontario Health Unit, Kingston, Frontenac, Lennox & Addington Public Health;Ottawa Public Health, Renfrew County & District Health Unit, Carlington CHC, Centretown CHC, Somerset West CHC, Ottawa Birth and Wellness Centre.
Partner fee - $150
For 2 day instructor workshops $300
Non Partner: Your organization is not a contributing partner of CMNRP, OR you are not an employee of the organizations mentioned above. (e.g. resident, midwife, physician, student).
Non partner fee - $175
For 2 day instructor workshops $350
WORKSHOP LOCATIONS
Children's Hospital of Eastern Ontario (CHEO)
401 Smyth Rd, Ottawa ON
The Ottawa Hospital-General Campus or Civic Campus
The Ottawa Birth and Wellness Centre
2260 Walkley Rd, corner of St. Laurent, in the Canon Building
Kingston General Hospital
76 Stuart St, Kingston ON
Do you have any questions about our Workshops? Please feel free to contact Ariane Cloutier, acloutier@cmnrp.ca Monday-Friday, 0800-1600 or call, 613-737-2660 x 2660
CANCELLATION POLICY:
Cancellation by registrant must be received at least 2 weeks prior to a workshop.
Insufficient notice (within 2 weeks of workshop) is subject to a $50 administration fee, except for NRP. The NRP workshop fee is non refundable.

NSF cheques are subject to a $50 fee.

Textbooks and manuals purchased for workshops are non-refundable.

Registrants who cancel their attendance will be encouraged to register for a future workshop. However, administration fees cannot be applied to future workshops.

CMNRP reserves the right to cancel a workshop due to insufficient registration,in which case participants will receive a total refund.

Workshops are not cancelled due to inclement weather.